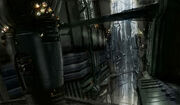 I decided to link the DeviantArt group and this Wiki's Twitter. The group was created to house the fan art and stories from this Wiki.
Group Twitter: https://twitter.com/#!/ResistanceFanon
DeviantArt Group: http://resistancefallofman.deviantart.com/
Join the groups! And I've somewhat given up the Blur Room, but I haven't given up this wiki. I will be adding several new flash stories because Flash Fiction is my specialty. Be on the lookout!
Ad Astra!